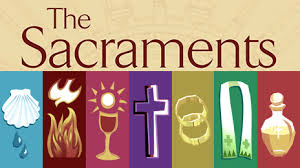 Enrollment for the Sacraments of First Confession, First Holy Communion and Confirmation
Enrollment for the Sacraments of First Confession, First Holy Communion and Confirmation
We no longer presume that parents wish their child to make the sacraments of First Confession, First Communion and Confirmation.
Parents must enrol their children for sacraments, whether in a Catholic /Non Catholic Primary School.
The procedure to be enrolled for Sacraments taking place in 2022
Due to the difficulties of gathering at this time, and for the foreseeable future, parents wishing to enrol their children for any of the Sacraments.  Please contact the Parish Office on 028 90812238 opt 2 for a form.

Please return the form to the parish office at drumbo@downandconnor.org before 1st December 2021
Children preparing for First Holy Communion will be asked to take part in a "Do this in memory of Me" programme with their family/parents/guardians via the Church webcam and the parish website.
These dates will be confirmed later in the year.
Please Note
At this time due to the COVID-19 pandemic and the guidance and regulations we are unable to provide catechism or any catechetical programme for Children at State Schools.
Once we able to provide a programme we will advertise it on the parish website and Facebook page.